Peru and Easter Island Day Nine
May 7, 2010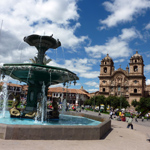 Today is the first day this trip that I do not have to get up ridiculously early; in fact I don't get out of bed until 10.00am!!! When I do I go for a walk around Plaza de Armas and up one of the side streets to find the 12 sided stone. When I get there I get my picture taken by it and one of the locals tells me that the stone is more famous than Michael Jackson, somehow I don't think so.
I continue walking around Cusco and get some lunch. I then head back to my hotel for an hour before being picked up for my Cusco City Tour.
The tour starts at Qorikancha which is reputed to be one of the most important temples of the Inca Empire, which was later built over with the Church of Santo Domingo.
From here we went over to the main Cathedral in Plaza de Armas and had a tour around the inside of there, it is said to be the second most spectacular Cathedral in South America after one in Mexico. Our guide Marco pointed out lots of hidden symbolism in the paintings such as the last supper featuring a guinea pig and showing Pizarro as Judas, the Virgin Mary with a Puma, Condor and Snake on her and lots of other Inca symbols scattered throughout the artwork.
Next up was the ruins of Saqsaywaman, a walled complex overlooking Cusco, some of the stones here are so big it is estimated they weigh as much as 125 tonnes each.
We then stopped briefly at Puca Pucara to take a few pictures at a distance before heading to Tambomachay where we walked over to the monument which is on three levels to signify the Inca Cross, there is also a fountain here which is still running since the Inca built it centuries ago.
The final archaeological stop of the day is at Q'enqo, it is starting to get dark at this time so it is quite difficult to see it properly but we go into an underground cave where they used to make human sacrifices, some bodies were only recently discovered in a sealed area of the cave.
On the way back to Cusco we stop at a silver and textile shop and watch a demonstration of how they are made.
When I get back to Cusco I go for dinner at the Inka Grill. As it is my last night in Peru I feel compelled to order the local delicacy, guinea pig. Yes I feel a bit guilty. When it arrives I fell a bit disappointed as I was expecting what basically looks like a deep fat fried guinea pig like you see in all the tourist brochures but it came looking like four pork chops. There was hardly any meat on it and it tasted a bit like the dark meat of chicken mixed with rabbit. I can now add guinea pig to my ever expanding list of food I have eaten.
I go back to the hotel and pack my rucksack for the flight in the morning.
Cusco City Tour

Qorikancha

Saqsaywaman

Puca Pucara

Tambomachay

Q'enqo

Inka Grill

Comments