Peru and Easter Island Day Fifteen
May 13, 2010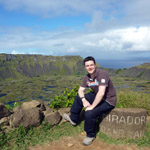 Got up and went for breakfast as usual at 8.30. Today I had ham and cheese with a mixture of fruit. I sat with Deb, Laurie and Cheryl and after breakfast said goodbye as they were leaving for the airport straight after for their flight to Santiago and then on to a tour of the vineyards.
The first thing I do today is head over to the museum; it is a short drive out of town and contains artefacts from the islands past including the only Moai eye discovered. All the exhibits are in Spanish but they give you an English guide book as you enter and then you just use the description in the book with the corresponding number.
I set myself a task of buying a Moai this morning and go around all the artisan shops again and again struggling on which one to buy, in the end I decide on one from a shop recommended by my new friends the Canadian ladies.
My wallet considerably lighter I drive out of town towards Rano Kau crater, I take some more pictures and video there before heading up to Orongo, where the Birdman Cult was centred. I was hoping that the same vendor would be there that was there two days ago as I wanted to buy a Rongo Rongo tablet from him, but unfortunately he was not.
I continued to walk around but after only a few minutes it started to rain quite heavily so I went back to the car to wait it out, after 20 minutes it still had not stopped so I drove back down to Hango Roa.
In Hanga Roa I went for lunch at Hakahonu, the same place I went for diner two nights ago, I had a fruti de mare salad that had a mix of prawns, calamari, scallops and local fish, it tasted great.
I then went exploring the North road as the rain had eased off a little, the first place I came to was Ahu Hanga Kio'e. There was a single Moai there as well as two Ahu's, it is believed that these were the last built on the island, in the mid 17th century.
Then I carried on driving for a while down some sketchy dirt tracks until I came to Ana Kakenga otherwise known as the cave of two windows. The cave is a lave tube of around 50 metres long.  To enter the cave you need to squeeze through a rather narrow opening into the pitch darkness, it is quite tight for a while before it opens up, luckily I was prepared and had a torch, but it was so narrow I needed to take the pack off my back. The cave divides into two with two openings that overlook the ocean, which is where the cave gets its name from. I stay here for a while before moving on along the road.
Next I came across Ana Te Pora, another cave system and this one was huge inside with a big roomy arch, it was used as both a shelter and ceremonial place in ancient times. When I was exploring the outside of the cave system looking for more holes in the ground it began to rain heavily again so I went back to the car to take shelter.
I drove over to Ahu Tepeuto see if it would stop and it did for about two minutes so I drove on.
Then I arrived at Ana Te Pahu, the banana cave, but as I had been here previously and when I walked down to it was greeted by a man urinating directly towards me (not a pretty sight) I decided to keep going.
It was getting late now and I had to return the rental car so I went back to Hanga Roa. After a bit of a rest at the hotel I went into town for something to eat. I ended up at Te Moana and have to admit it was not very good, definitely the worst food I had on the island. I had local fish and potatoes but the sauce on the fish tasted like parmesan cheese and the mashed potatoes could drain through a sieve. Very disappointing. I also hate to admit it but I felt quite lonely, I had been lucky the past few nights to have company at diner but not tonight.
After that I went back to my hotel room and packed my bag ready for my departure the next morning.
Hanga Roa and Museum

Rano Kau

Orongo

Lunch

Ahu Hanga Kio'e

Ana Kakenga (Two Windows Cave)

Ana Te Pora

Ahu Tepeu

Ana Te Pahu

Hanga Roa

Comments