Cologne Trip 2008
My job involves looking after the marketing communications for our Consumer Products division, this means I needed to attend Domotechnica in Cologne.
Domotechnica is a Domestic Appliance exhibition and I had a particular interest in networking with the kitchen appliance manufacturers that were in attendance.
I was there for two full days so I was able to have some time to explore one night and for around three hours before I had to fly back which I made full use of.
Cologne 2008
Below you can view my travel journal and photography from my recent trip to Cologne.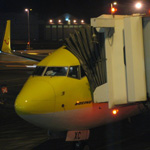 Day One – Manchester & Cologne
18th February 2008
I get to Manchester airport at about 18:30 after work and check straight into the TUIFly desk which is the airline I am flying with, I had never even heard of them until my company booked this flight for me.  No other passengers are there to it only takes two minutes.  [More…] 

Day Two – Cologne
19th February 2008
I get up early and head down for breakfast, which is a help yourself continental style, I have a selection of hams, cheeses and breads with lots of orange juice. After breakfast it is time so me to start work and I head over to the exhibition centre to begin networking with the companies that are there.   [More…]

Day Three – Cologne & Manchester
20th February 2008
The day starts much the same as yesterday, I get up, get ready and go down for breakfast, which is the same continental meats and breads as yesterday. I go back up to my room, pack all my things and check out, leaving my language in the hotel safe room. Before heading back over to the exhibition.     [More…]