Peru and Easter Island Day Ten
May 8, 2010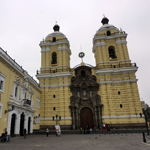 I get up at 7.00am and prepare for my pickup at 8.00am to take me to the airport, at 8.20 I begin to worry that they are not coming for me so I call the emergency line that is in my travel pack, it turns out that one of the guides called my hotel last night and left a message to say that they will not be coming to collect me until 8.45, I did not get that message.
I get collected and am taken to Cusco Airport, along the way there seems to be some sort of parade to celebrate mothers day. I check in and proceed to go through security. I board the plane and it takes just over an hour to get to Lima.
At Lima I meet a rep from the tour company I will be having a city tour from, we go to his minibus and he tells me we need to go and pickup the guide, 50 minutes later we arrive where we are due to pick her up, but she is not there, we wait another five minutes until she turns up.
We then proceed to drive around only stopping once to walk from the main square area to the San Francisco Church and spend about 20 minutes there looking around. We then get back in the minibus and drive around a bit more and after less than two hours the guide leaves and I head back to the airport.
I think that this tour was a complete waste of time and money, I actually paid well over the going rate for this tour as it was a custom tour with a pick up and drop off at the airport instead of a central hotel, I was expecting about four to five hours visiting interesting sites and got nothing of the sort, if I wanted to just drive around I would have hired a taxi for a few hours.
When I got back to the airport the driver gave me a customer satisfaction form to fill in, and I did as honestly as I could without resorting to bad language. I think I will put in a complaint when I get home in the off chance I can get anything back, but it is not the money I am bothered about it is just the waste of time. I don't know if I will ever be back to Lima so could have missed the opportunities to get to see some of the major parts.
At the airport I get something to eat, change my Peruvian Soles to Chilean Pecos (450 Soles = 75,000 Pecos) and wait around for my flight to Santiago.
The flight takes a little over three hours and I arrive in Santiago at 1.20am. I am staying at the Holiday Inn at the airport so I only need to walk out of the door and I am there, I check in and go to bed.
Getting to Lima

Lima City Tour

Getting to Santiago

Holiday Inn, Santiago Airport

Comments