Peru and Easter Island Day Sixteen
May 14, 2010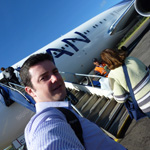 I get up the usual time and head for what will be my last breakfast on the Island at 8.30. Today I have fried eggs, sweet potato and bananas. I check what time I will be taken to the airport and pay my bill.
I have enough time to go into town for one last time and get a Rongo Rongo tablet from the Rapa Nui foundation. I go back to the hotel and get a lift to the airport at 11.00, as I arrive the plane is just landing and just manage to film it. At the airport I check in and then wait to depart. The airport is very small, basically just two rooms.
When it is time to board we walk across the runway to the plane and when I get on the plane is virtually empty, I have my row to myself and am very happy about that. The plane takes off smoothly and takes a little under five hours to reach Santiago.
At Santiago I plan to check in straight away for my flight to Panama, get something to eat, go through security then get a few hours sleep, unfortunately it does not go as smooth as that. I arrive at 7.30pm and will not be flying out until just before 3am, I head over to the Copa Airways desk but it is closed so get something to eat from La Pausa in the airport.
I have a cheeseburger and chips, I am not joking the chips did not even fill ¼ of the plate, if I was serving I would be too embarrassed to present this to a customer as a meal. I ate them all in a few seconds, I then turn around to see them cooking other peoples burgers, the chef was handling the raw burgers without any gloves and then when she was done just wiped her hands on a towel, she did not wash them or anything. Great I think to myself, I will get food poisoning in the morning.
After the less than satisfying meal I go and sit by the Copa Airlines check in desk, after all it should be opening soon?
Well it did not open until after midnight, what a waste of time.
Tauraa Hotel

Mataveri Airport

Flight from Easter Island to Santiago

Santiago Airport

Comments