Peru and Easter Island Day Seven
May 5, 2010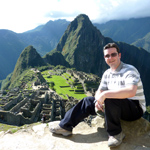 Another early morning again today, I get up at 4.30 and am picked up at 5.20 and taken to the train station here I board a mini bus and am taken to Piscaicucho where I will board the train to Machu Picchu. Normally you can get the train directly from Cusco but the flooding earlier in the year wiped out the tracks. So now everyone needs to take the two hour minibus drive to get the train.
I have paid a little extra and take the Vista Dome train which promised to give spectacular views of the journey through the mountains, unfortunately there are only spectacular views if you sit on the left side, if like me you sit on the right side you don't really see anything, it is also not helped hat as soon as anything interesting goes past everyone on the left stands up to take pictures, this is very inconsiderate as for one thing you will get exactly the same shot as if you are sitting down just a few inches lower and it also obscures the view of everyone on the right side of the train.
When we finally arrive at Machu Picchu Station in Aguas Calientes I am met by my guide who packes my rucksack off me and gives it to a guy from my hotel, we then wait for everyone else to arrive.
We walk over to the bus station and take the bus up the hill to Machu Picchu. The bus zig zags up the winding road to the main entrance of Machu Picchu, when we get there we have to wait for everyone else from the group to arrive. Once we enter Machu Picchu we go up and to the left following the long train signs, this gets us to the top of the terraces to give us the picture postcard view of the site. After everyone gets all the pictures they need we continue following a set route through the main gate, temples zone, three windows, observatory, ceremonial rock, three doorways and finally the Temple of the Condor, this is where our guided tour finishes.
I spend the next five hours exploring the place myself and go to the Temple of the Sun and the fountain areas. I also take a bit of a walk to find the Inca Bridge before just sitting from one of the high terraces for about an hour just looking down on the place.
When I finally leave I get the bus back to Aguas Calientes and go to my hotel the Hostal Plaza and then explore the town a bit before getting something to eat and heading back to bed for an early night.
Train to Machu Picchu

Machu Picchu

Aguas Calientes

Hostal Plaza

Comments