Peru and Easter Island Day One
April 29, 2010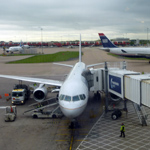 After floods, mud slides, earthquakes, a plane and bus crash (thankfully not with me on them) and finally a volcanic eruption, I am going on my trip to Peru and Easter Island.
I get up at 5am and leave the house at 5.40, I packed my rucksack the night before to save time.
At Manchester Airport I go to check in on the Continental desks and the lime is massive. I wait about an hour before I can check in my bag.
I try to score an upgrade or emergency exit seat but no luck on both counts.
I pass through immigration smoothly and get a breakfast bap to eat.
As soon as I do there is an announcement to say my flight is ready to board. I eat it quickly and then head over to the gate.
I am one of the first to board and am almost at the back of the place. I am sitting amongst a group who are going on a Sex and the City themed hen party to New York.
The flight was uneventful and I watched a couple of films.
That is until about 30 minutes from Newark when the plane plunges about 50-100 feet without warning. I swear quite loudly with shock, fortunately so does everyone else.
What followed was probably the worst turbulence I have ever encountered with the plane being buffeted from left to right and up and down.
It got so bad that the three women behind me and the three on the seat opposite were all sick, the smell was terrible. When we landed I have never been so pleased.
At Newark I need to pass through immigration, pick up my bag and then drop it off again at customs.
I get something to eat at the food court and wait to board my next flight to Lima.
Once we take off we had turbulence again but it subsided within an hour the further South we got.
The flight was uncomfortable which was not helped by the two drunk fat men in front of me pushing their seats back at the first instance they had.
I arrive in Lima and then pass through immigration and pick up my bag.
My hotel is the Ramada Costa Del Sol which is the only hotel situated at the airport so it only takes me two minutes to get there.
I check into the hotel put my stuff in the room then head back to the airport to get some local currency and a couple of bottles of water.
I finally get to bed at about midnight.
Travel
Ramada Hotel, Lima

Comments