Peru and Easter Island Day Eight
May 6, 2010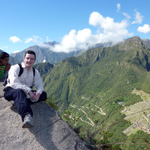 Another really early day today, I get up at 4.10 and start to get ready. When I go in the shower there is no hot water, I don't mean that cold water is running out of the hot water tap I mean nothing is running out of the hot water tap. I decide not to have a shower today as I don't think my body could take a freezing cold shower at this time in the morning.
I get over to the bus station for 4.40 and there is already a large line of people waiting to catch the first group of buses at 5.30. I wait and am able to get on either the fourth or fifth of the day.
As soon as I get to Machu Picchu I get in line and wait for the guy to come along who issues the Wayna Picchu stamps, I get my ticket stamped (I am number 75 for the 7am climb). I then go in the gates an notice that people are coming out of the main office with their passports, it turns out you can get you passport stamped with a Machu Picchu stamp. As I am not shy about getting my passport stamped I go in and get one.
I then head up to the area that overlooks all of Machu Picchu to get some photographs of the site covered in the early morning clouds. I stay up there for about an hour before heading for the entrance to Wayna Picchu.
I sign in at the gate at 7.50 before begining my climb. The trek up is relatively straight forward with a few steep sections that require hand rails, I took my time with frequent stops an it took a little less than an hour to get to the summit.
At the summit there is an outcrop of large stones with a number of people all having there picture taken on them.  I spend about 30 minutes there then decide rather than going back down to follow another trail towards the big caves and Temple of the Moon.
The trek down to it is quite steep with two sections that have large wooden ladders that need to be climbed down.
At the Temple of the Moon there is a cave with some structures in it, I sit down and have some of my chocolate as a little treat to myself.
I then start back, I see a sign that says Machu Picchu 1.30 hours, I really didn't expect that, about 30 minutes tops, I start to worry as I am almost out of water and the sun is baking hot. The track is up hill all the way and is really, really difficult, I seriously regretted coming down to see the caves and temple!
I need to take regular breaks in the shade and it seems to take forever to get back, but eventually I do and as soon as I do I head for the little cafe outside the main entrance and buy myself a large Coke.
After walking around Machu Picchu for one last time I head back down to Aguas Calientes to look around the Market and catch my train back. The train ride lasts for 1.20 hours then I get a minibus for another 2.20 hours back to Cusco. I check back into the Sol Plaza Inn Hotel and get an early nights sleep.
Early Morning Machu Picchu

Climbing Wayna Picchu

Leaving Machu Picchu

Sol Plaza Inn Hotel, Cusco

Comments