Moscow Business Trip
October 8, 2010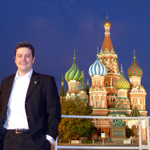 5th October 2010
Up early this morning, 4am and left the house at 4.30am to drive to the airport.  At Manchester Airport I had a breakfast bap at the cafe which contained a fried egg, bacon and sausage all in one bread roll, so that is probably all my calories for the day just for breakfast.
My first flight is with Czech Airlines to Prague that I slept most of the way on and then after an hour layover another flight from Prague to Moscow.
After we arrived we got a taxi to the hotel which was the Mona Hotel in Lobnya which took about 20 minutes. The hotel was situated in the woods and was going for a very modern boutique look.
Check in took quite a while and I got overcharged and needed to be refunded.
When I got to the room it was small but clean, one problem was the curtain only covered half the window. So I thought I may be able to get a room upgrade if I mentioned it to the front desk. But, they just sent a cleaner with a ladder and pair of scissors who spent about 20 minutes cutting away the threads at the top so it can extend all the way across; it was like a comedy routine.
Later in the night we met up with some more colleagues and customers and went for dinner to a local Russian restaurant. We had a mixture of various traditional starters which included lots of pickled vegetables, fish, breads and fat (yes fat). For a main I had mixed meat in a creamy sauce with potatoes. Plus being Russia we had to have spirits and tonight we had a distilled horseradish which is made on site.
After that we went back to the hotel.
6th October 2010
Got up and went down for breakfast, this was a bit strange as even though it was a help yourself buffet you could only have 2 cups of tea or coffee any more and you will be charged, if you wanted orange juice you had to pay or if you go up for more fruit you had to pay.
After breakfast we went to visit our customer for an all day meeting. After the meeting had finished we drove into Moscow and although it was only a few miles away it took two hours due to the traffic which was virtually at a stand still the whole way.
In Moscow we walked through Red Square and saw a few of the sights before going to a traditional Ukrainian restaurant which had a very vast menu with highlights that included lard, salted lard and smoked lard for starters and beef lungs and beef heart for mains. Although I would have liked to order the lung just to say I have tried them I decided to play it safe and have the chicken cutlet which actually turned out to be what I believe to be chicken flavoured bread!
After the meal we went back to the hotel.
7th October 2010
Got up a bit earlier today, had breakfast and then checked out and went to visit our customer again for another meeting.
After the meeting we went to the airport and caught our flight back home changing again in Prague.

Comments