Milan for a night
June 26, 2010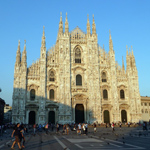 Thursday 24th June 2010
Left the house at 06.45 and got to Manchester Airport a little under an hour later. I checked in went through security and then got some breakfast, I don't know why I always go for the greasy offerings they have here as I never enjoy it or learn my lesson.
Flight takes of without a hitch and takes a little over an hour to get to Paris Charles de Gaulle airport. Most of the flight is spent trying to ignore the two guys next to me talking loudly about the financial performance of an automated milking company (really interesting).
At Charles de Gaulle I need to go from terminal 2E to terminal 2F, not as easy as you would think mainly due to industrial action taking place at the airport, it took around an hour with the bottle neck being passport control between the buildings, the immigration officers would just decide to get up and leave with no warning leaving everyone in their queue to then push into another.
I grab a drink and sandwich and then board my flight. When I get on the plane we are told we will be on the ground for at least an hour until air traffic control give us permission to take off, it is quite warm on the plane but luckily I have the whole row to myself. It ends up being one hour 20 minutes before we take off.
I get to Milan Linate airport later than planned and was quite shocked that there was no form of immigration, I just walked out of the exit without showing anyone my passport which I was a bit gutted about as I don't have an Italy stamp in my current passport. I wait for about 20 minutes for the hotel shuttle and when I get in he starts to read the newspaper and eat a banana.
I get to the Crown Plaza hotel and check in, they upgrade me to a superior room because I am a Priority gold card holder which was nice. The room was clean but a bit cramped, although it did have a big comfortable bed.
I connect up to the Internet and start working for a few hours to get all the latest changes to my company's website live ahead of tomorrow's product re-launch, I finish that by 20.00.
The Crown Plaza Hotel

I go down to find out what is the best way to get into the centre of Milan. I am told to go to the closest subway which is a 15 minute walk away, which I do. I get the subway to Duomo station, as soon as you walk up the stairs you are greeted by the setting sun covering the facade of the Duomo Cathedral. As usual I take lots of photographs of everything and walk around for a couple of hours. I have dinner at one of the restaurants on the street and have a veal chop with gelato for dessert.
Around Milan
After the meal I catch the subway back to the hotel where I prepare a short speech for tomorrow.
Friday 25th June 2010
The next morning I head down for breakfast, there was a large selection but to be honest the hot stuff was not very tasty, but the cold options were ok.
I check out and get a taxi to our customers' factory, which takes about 30 minutes because of the traffic. Once there I do a bit of work on my laptop before the big balloon release to signify the re-launch of one of our products.
After the launch I get a lift to the nearest taxi station and get one to the airport. I have hours to wait there as I am booked on a late flight. The airline wanted to charge me to get on an earlier one (some airlines let you do this for free). I am not even able to work as the battery in my company laptop is useless and runs out in 20 minutes and I am not able to find a power socket. So I pass the time playing around on my iPhone.  I eventually leave on Alitalia for my flight to Charles de Gaulle.
Charles de Gaulle again surpasses itself in ineptitude, this time it is the food court in terminal 2E. No one was serving, how a whole food court can not have anybody behind the counters I don't know. Eventually one woman did come out and after I selected my Chinese meal proceeded to put it in the microwave, great, sure I will not get a mild case of food poisoning from that.
Then to top things off I get to my gate only to be told they need to replace the airplane and don't know how long it will be, great!
In the end it was only an hour delay, ten minutes of which was spent on a bus driving around the airport in what seemed to be a search for a free plane.
The flight was uneventful all the way to Manchester, for some reason I got upgraded to business class so got a free meal, yay!

Comments