MCM London Expo Weekend
October 27, 2008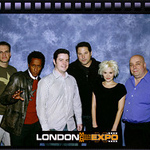 Background
For those people who have seen the occasional updates I add to this site will know I am a big fan of the TV series Heroes and I have attended a few events to meet and get their autographs, well this weekend I went to London to meet five of them, four from the new season 3 and one original member. As well as attending this event I also, as usual went to the theatre and visited a museum.
Friday 24th October
I left work a few minutes early to catch the direct train to London from Chester at 16:08 and just made it with a few minutes to spare before it departed. Luckily I had a reserved seat as the train was quite busy and at least in the carriage that I was in there was no spare seats.
To pass the time on the journey I watched the first three episodes of the new season of Heroes as because I have just got back from a long holiday to Florida I had not seen any of the episodes yet and thought I better had before I was to meet the people who was staring in them, I have to say I was impressed.
When I finally got to Euston Station I then went on the underground to get to my hotel the Hilton in Canary Wharf, which due to a number of internet codes and promotional vouchers I was able to stay at for just £53 per night including breakfast, the cheapest I have ever seen this hotel at previously is over £100 and breakfast is £19.95, so an absolute bargain!!!
The Hilton Canary Wharf

The plan was to dump my stuff in the room and then go to Trafalgar Studios to see Riflemind, a play staring John Hannah (from the Mummy and Four Weddings) and directed by Philip Seymour Hoffman (Oscar winner for Capote) but I was so tired due to my lack of sleep after flying back from the States a few days before I just decided to go to bed.
Saturday 25th October
I got up quite early and went down for breakfast; the buffet style food was really tasty (I have stayed at a number of Hiltons being a Hilton Honors gold card holder for a few years and I think this was the best one so far).
I left the hotel at 7:30 with the intention of arriving at the Excel centre where the London Expo was taking place at around 8:00, an hour before it opened at 9:00. Unfortunately, due to work on the underground I needed to take a bus from one of the stations and this took over 20 minutes to depart so I did not get there until 8:30, by which time the line was huge.
When I got in I went straight to the Heroes are and got virtual tickets so I could come back and get there autographs later, I also got photo shoot tickets. Then I just went for a walk around and see what was here. Usually this can be quite interesting especially at events like Collectormania and London Film and Comic Con, but the London Expo is mainly aimed at Anime and Manga fans, something that I have absolutely no interest in.
I then went to get the Heroes autographs on my poster and both David and Ken looked really impressed by the amount of signatures already on there, all the cast seemed to be genuinely pleased to be there, not just there to sign autographs and make some money.
Heroes Cast – Signing and Panel Talk

I then had a photo shoot with them; I decided to get one with everyone in and then with each one individually. Everyone again was very friendly during this, the Group went first followed by Greg, Brea, Andre, David and finally Ken.
Heroes Photoshoot

This is were my first complaint of the event was, there was only about ten people who wanted a group shot, a shed load who wanted Greg, 20-30 for Brea, 6 for David, 4 for Andre and 2 for Ken. So after the group shot the cast had to wait to the side for about 30 minutes while they did the Greg shoot, surely it would have made a lot more sense to do there shoot before Greg as it would have been over within five minutes and would have stopped them hanging around when they could have been relaxing.
Also a second complaint, to get autographs from the Primeval panel you needed to que up at 12:00 to get tickets which was limited to 150, the Heroes photoshoot lasted from 11:30 to 12:30, very bad organisation on the part of the organisers, as there would be a crossover of fans from both shows.
Luckily I was in the queue early (stood there for 45 minutes) for the Primeval tickets and got chatting to a couple of guys in the queue, who kindly kept my space for me, so after the group Heroes shot and Greg (which I was first for) I went back just in time to get the tickets and then went back again for the last three photo shoots.
The Heroes casts then did a panel discussion answering questions from the audience, David himself seamed to be a big fan of the show admitting to owning them on both DVD and Blu-Ray and knowing extras that were on them along with what editing software the studio uses.
I went for lunch to the Mongolian barbeque upstairs that was quite good value, for less than £10 you had soup, a main that you picked out the ingredients for and a pint of Coke.
After lunch I went back and attended the Merlin panel and later got autographs from them and the Primeval cast and creators. Everyone seamed really happy to be taking part, and best of all because it was a promotional event all the signatures were free.
Merlin Cast – Signing and Panel

Primeval Signing

Autographs

Michael Hogan

After these I then went back to the hotel, and then out to Leicester Square. In Leicester Square I went to my usual cheap theatre tickets booth to try and get some reduced tickets to Rain Man staring Josh Hartnett, but unfortunately they did not have any. So I went to the Apollo theatres box office where the show was performing and was able to get one of the last tickets for that night's performance. I then went over to the Comedy Theatre and waited for about 20 minutes before Kelly Brook arrived and got her autograph and picture with her, there was also around three autograph dealers waiting for her and they all got what seamed like ten autographs each from her and she still has a smile on her face.
Kelly Brook at the Stage Door

I grabbed a quick McDonalds before heading back to the Apollo to see Rain Man. Both Josh Hartnet and Adam Godley gave stellar performances, I was really surprised by how good Josh was, my last experience of someone like him on stage (Orlando Bloom) was very disappointing.
After the show I went to the stage door and after waiting about ten minutes Josh came out and signed autographs for a load of people including me.
Josh Hartnett and Adam Godley at the Stage Door

I then went to Trafalgar Studios in a hope of meeting John Hannah and Philip Seymour Hoffman after there show Riflemind as I would not get another chance of it was the last ever performance after the show was forced to close early. Outside the stage door I met Ammie-Fion Edwards from the TV show Skins and apparently just missed Geri Haliwell by a couple of minutes, but unfortunately I did not get to meet John or Phillip as they stayed late to attend the after show party and I needed to make sure I caught the last underground train back to the hotel.
Aimee-Ffion Edwards outside the Trafalgar Studios

Sunday 26th October
Clocks went back last night so I had an extra hour in bed, which was very welcome, I then got ready and went down for breakfast, and again it was really tasty.
I checked out and left my bag with the concierge, before heading over to the Imperial War Museum were I spend a few hours looking at all the exhibits commemorating the people who have fought in conflicts since the First World War.
The Imperial War Museum

I then got the underground back to the hotel to pick up my bags, before getting back on to go to Euston station.
This is were everything started to go wrong I was due to leave euston at 17:56 so got on the tube at 17:00 to get there, I had plenty of time and planned to go to the first class lounge for some drinks and snacks before I boarded, but then the underground train I was on got stuck in a tunnel due to a signal failure, I was there for over an hour and a half with no fresh air, extreme heat and even people fainting around me, not very comfortable in the end they managed to get us to the next station which was kings cross and cancelled all further services. I then needed to walk in the rain with my case to Euston and got there with 4 minutes before the next one to Crewe was departing so no first class lounge and free drinks for me!!!
I was told that a train would be leaving Crewe to Chester at 22:00 and that would give me 3 minutes to get on as I was due to arrive at 21:57, but then at Milton Keynes there was a problem with this train and was delayed for 8m inutes which then made me miss the Chester one.
OK not the end of the world I thought I would just get the next one, when I got to Crewe I spoke to the person there and due to maintenance on the line there was no trains running in that direction after 22:00 so I then needed to catch a bus to Chester which took an hour. In the end I did not get home until half midnight when I should have got back by 21:00. What an enjoyable experience that was!!!!!!!!!

Comments