London Theatre Weekend Sep 09
September 27, 2009
Left work at the usual time and caught the direct 16.35 train from Chester to London Euston, then got the underground to Hyde Park Corner which was the nearest stop to our hotel, the Intercontinental Park Lane. To be honest considering this was quite an up market hotel there was nothing really special about it and our standard king room was nothing to blow you away.
After we had checked in we caught the tube back into the West End area and went to Chinatown for dinner after checking out all the menus in the restaurant windows we settled on one that did a 3 course fixed menu for £10.85 each, it was ok but nothing spectacular.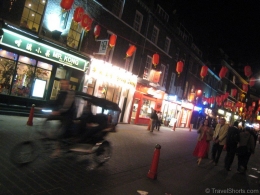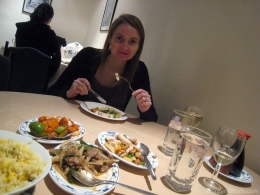 When we finished we went for a little walk around and Priscilla Queen of the Desert was just letting out so we went to the stage door and got Jason Donovan's autograph and a rather rushed photograph which is not the best.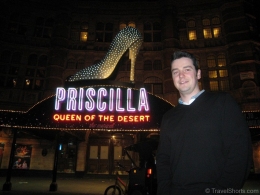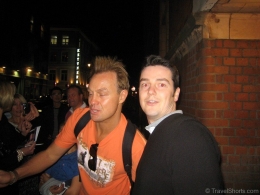 After that we walked over to the Donmar Warehouse to see if we could spot anyone coming out of there and met Daniela Nardini so got her autograph and picture with her.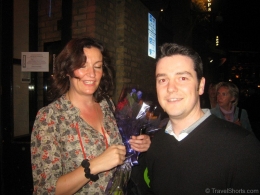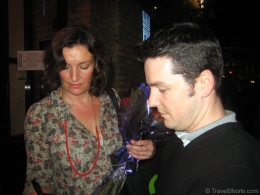 We then went back to the hotel for the night.
The next day we started early and went for a walk around the Leicester Square area before seeing the Matinee of Calendar Girls, the show was ok but Anita Dobson who was in one of the lead roles was very over the top and after saying any of her lines proceeded to give it some 'jazz hands' which got very annoying everyone else were really good.
After the show we went to the stage door and got autographs and pictures with Jerry Hall, June Brown, Jack Ryder, and Jill Baker. Shawshank Redemption which was at the Wyndhams also finished and their actors was coming out at the same time so was also able to get Kevin Anderson and Reg E. Cathey.
We walked around some more before getting some dinner at a small Italian restaurant, I had the spaghetti bolognese and Sarah had some chicken in a creamy mushroom sauce.
We then went over to the Donmar Warehouse to see Tennessee William's "A Streetcar Named Desire", this is a very intimate theatre and our sets were literally over the stage, it was a good play with very strong performances from all the actors. Afterwards as usual I waited to get their autographs and was able to get Ruth Wilson, Luke Rutherford and Elliot Cowan, unfortunately Rachel Weisz did not come out to meet her fans, apparently this was quite normal and we were a bit disappointed.
Then it was back to the hotel for our last night.
The next morning we checked out and left our bags at concierge and went for a walk around Hyde Park followed by a shopping session on Oxford Street, eventually we picked our bags up from the Hotel and went to Euston Station to wait for our train back home, we made full use of the free drinks in the First Class Lounge.  

Comments