London Film and Comic Con 2013
July 7, 2013
It is that time of year again to head down to London to attend the London Film and Comic Con, as usual I plan to see a show when I am down there, this time it is "The Cripple of Inishmaan" part of the Michael Gandage season and staring Daniel Radcliffe.
Friday 5th July
Got the train down to London in the mid afternoon and checked into my hotel, the Travelodge Tower Bridge, I have stayed here a few times before so know what to expect, I then head over to Earls Cout on the Tube to The Preview evening of the London Film and Comic Con. All I did when I has here was get my photoshoot with Amanda Tapping done as there was a slight conflict the day after. I got to meet her and she seemed really friendly.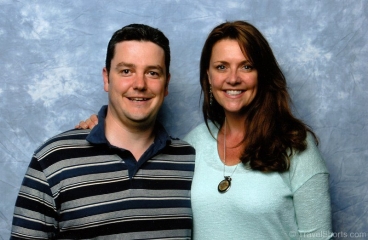 After that I headed over to the Noel Coward Theatre for the performance of The Cripple of Inishmaan staring Daniel Radcliffe of Harry Potter Fame. I will not give a full review of it hear as I plan to do a full blog post as soon as I have time but needless to say i enjoyed it very much. Afterwards I went to the stage door to try and get the cast to sign my programme, unfortunately by the time I got there it was crazy and many people deep. What was frustrating was that the rest of the cast walked past without anyone asking for an autograph from them, everyone was just after Daniel. Unfortunately due to my position I could not get to them but i think they would gladly sign if approached.
After that I get a later dinner at KFC and head back to the hotel.
Saturday 6th July
Got up early and headed over to Earls Court, even though I got the by 8.30 there was still a big line to get in.
First up I met Peter Dinklage from Game of Thrones, he was very friendly and was talking and joking with people.
Next was Danny Glover from Lethal Weapon, he was quite quiet and there was a strict policy on not photography near him.
Then I met Amanda Tapping agin to sign a photograph and my Stargate poster, she was very friendly.
After that I had a photo with Danny Glover before meeting Adrienne Barbeau from the Fog and Escape from New York.
I then went and waited for David Hasselhoff to arrive but after he did not turn up for a while I went over to get my picture with Peter Dinklage.
I then went over to try and meet David again and this time he was there and talking to everyone.
After David I met Ray Park who plays Darth Maul in Star Wars Episode One, he was very friendly and spent time talking to everyone.
Next was probably the nicest guest of the event, Meg Foster from They Live and Masters of the Universe, she spent a long time talking to everyone including me.
I had a quick photoshoot with David Hasselhoff where I was first in the queue and then went to the Mortal Instruments talk with Cassandra Clare and Jaime Campbell Bower before getting their autographs afterwards.
I then met Joe Dempsie from Game of Thrones and Skins before getting a photograph of myself on the Throne from Game of Thrones.
I then left and went for some dinner at Wetherspoons.
Sunday 7th July
Easy day today, Got up and had some breakfast at the hotel before heading to Earls Court. I only need two people to sign my Game of Thrones poster then it is time to go home.
First I meet Clive Russell, He seemed friendly enough, but I thought the lady in front of me was a bit rude, with a big queue behind us she spend what seemed like five minutes talking to him, even though he wanted to move on by taking my poster and signing it when she was still speaking to him.
Next was Richard Dormer, who was also friendly.
Then I got the tube back to Euston ad waited in the first class lounge for a bit before my train back up North.

Comments