Ken Mattingly Space Lecture
April 16, 2014
Thomas Ken Mattingly the Apollo and Space Astronaut recently came to Pontefract in the UK for a dinner and lecture that I was fortunate to attend; here is my blog from the event.
Ken Mattingly was Command Module Pilot on Apollo 16 and got to go to the Moon back in April 1972 along with fellow Astronauts John Young and Charlie Duke. He had two further flights into space onboard the Space Shuttle during STS-4 and STS-51-C in the 1980's. He is probably best remembered, at least to cinema goers for the Apollo 13 mission. With just three days to go until liftoff he was removed from the mission due to exposure to German measles (which he never contracted) and was replaced by his back up Jack Swigert. However Mattingly was involved in helping the crew solve the problem of power consumption during re-entry. He was portrayed by Gary Sinise in the movie Apollo 13.
After a two hour drive I arrived at Wentbridge House Hotel just outside Pontefract in Yorkshire which was to be the setting for an evening dinner reception with Ken Mattingly. Upon arrival I first lined up to have my photograph taken with the man himself. After a short wait and my wallet feeling a bit lighter after purchasing some raffle tickets it was my turn to meet him. He shook my hand introduced himself, asked me my name and how I was doing then we posed for the camera. He was very friendly and I think the picture came out really well.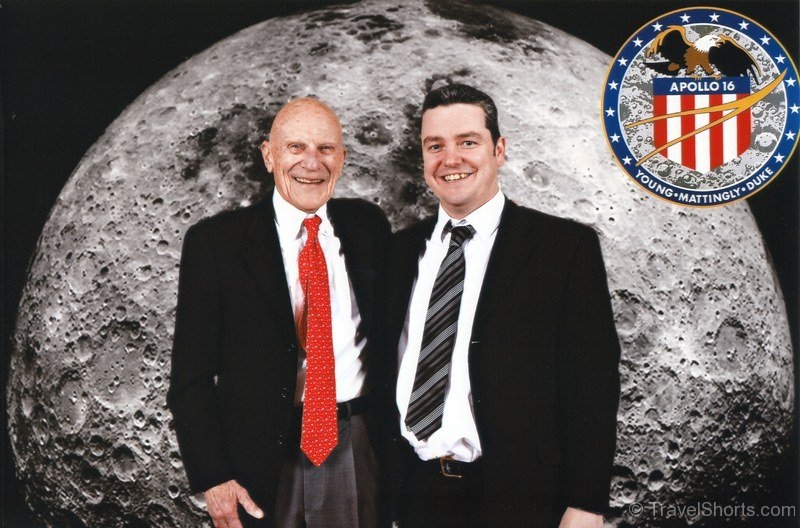 After the photograph I went for a little look around at the stalls selling space memorabilia before taking my seat in the dining room. Surprisingly I was on the second table with a group of the organisers, I don't know how I got this far from the front especially as I only booked the tickets relatively recently but I was only about ten feet away from Ken Mattingly who was on the next table.
On my table were a nice group of people especially Jane and Alan who were very friendly. Ken did a small speech before the meal but then did not talk during dinner. Dinner consisted of a goats cheese and onion tart, pork with wild mushrooms and berry pavlova for dessert. After the meal an auction took place were a number of signed items went under the hammer from previous guests at Space Lectures events such as Charlie Duke, Fred Haise, Al Worden and Alan Bean.
After the auction the signing took place, as I was on table two I was one of the first to go in for a signature, Ken signed my map of the moon, I thanked him, took a photo and then left the room. I went and said good night to Alan and departed the venue to head for my hotel for the night, the Premier Inn Pontefract North. It was a basic hotel, but had everything I needed for an overnight stay.
Saturday 12th April
Today Ken Mattingly was due to give a lecture at Carleton High School in Pontefract, but it was not until the afternoon so I spent the morning doing some shopping and having lunch at the Birstall Retail Park near Leeds.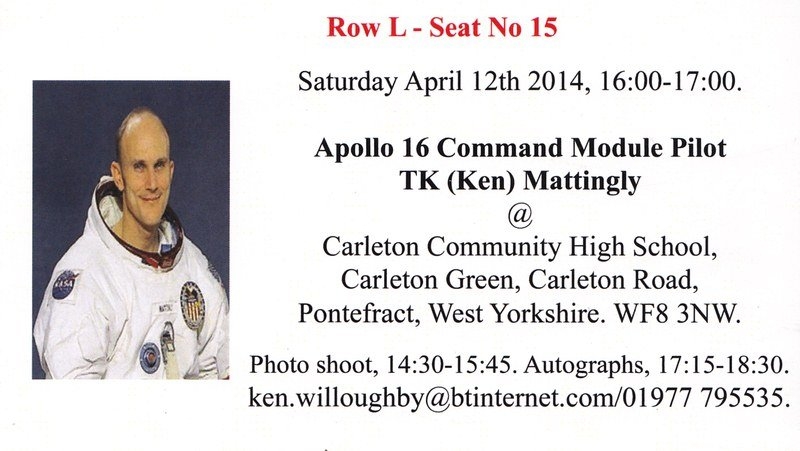 I got to the lecture about an hour early so waited around for a while and checked out some of the stalls there. Once I did get into the lecture theatre I discovered I was in the row second from the back. But I still had a good view.
Ken Talked for about 45 minutes about his time at NASA and particularly about Apollo 13, rather than discuss everything he mentioned here is a video of the lecture.
Some of the highlights for me was when he mentioned that they originally planned to play a prank on the ground crew of Apollo 13 by Jim Lovell and Fred Haise taking a tape recording of Ken into the Lunar Module to try and fool the ground that he was descending to the moon with them by having a conversation with the tape. Also he relayed an interesting story about how he almost had to abort the Apollo 16 mission on the back side of the moon due to some issues with the gimbals.
After the talk he opened it up to questions from the audience followed by an autograph session. As I was right at the back I had to wait quite a while for my turn but that was ok as everyone who attended got a signature if they wanted it.
Overall it was a great experience to meet Ken Mattingly a true historical figure.

Comments