Cologne Trip – Day Two
February 19, 2008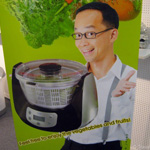 I get up early and head down for breakfast, which is a help yourself continental style, I have a selection of hams, cheeses and breads with lots of orange juice.After breakfast it is time so me to start work and I head over to the exhibition centre to begin networking with the companies that are there. Apart from 30 minutes lunch, I am on my feet all day until I leave at 16:40 when I head back to the hotel too have a shower and relax by watching a bit of TV, I can't believe one of the shows that is on, it is called are u hot and it involves men and women walking on stage and being assessed on their bodies and face, those with a high score are declared hot and the others not, just like the website hot or not, but this is prime time tv when there are usually children's shows on back home, amazing! .
At about 18:00 I head into town to do a bit of sight seeing, I elect to walk rather than taking the public transport as it is a clear night and want to see as much as I can. I walk towards the bridge that crosses the Rhine. When I get to it the sun is just about to set and the combination of the river, bridge, cathedral and church look great together. I walk over the bride and arrive in the main city area by the cathedral and look around all the different little side streets as well as the main shopping areas. I spend a good couple of hour walking around the place and my feet are really hurting as I have not brought any comfortable shoes with me on this trip just my work shoes which are not the best for walking large distances.
I then go for my dinner at a Chinese restaurant called big China, I had won ton soup for a starter followed by king prawn chop suey for a main. The starter was not very nice but the main was good. I used the time at the restaurant to relax my feet by taking my shoes off under the table, as a number of blisters were now appearing on my toes.
After the meal I then head back to the hotel that takes about 30 minutes retracing the steps I came here. When I go back over the bridge all the lights are on the cathedral so I take a few more pictures and set the timer on the camera to attempt to get in a few of them with minor success.
Back at the hotel I watch a bit of TV, then go to bed.
Around Domotechnica
Quality German daytime TV

Bridge Area

Shops

Around the City


Comments