Cologne Trip – Day Three
February 20, 2008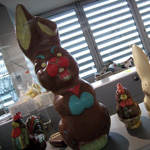 The day starts much the same as yesterday, I get up, get ready and go down for breakfast, which is the same continental meats and breads as yesterday.I go back up to my room, pack all my things and check out, leaving my language in the hotel safe room. Before heading back over to the exhibition. I am walking with a bit of a limp today as my blisters have got worse (I sound just like a moaning old woman don't I). I welcome lunch when I get the opportunity to sit down, I also spend about 20 minutes in an all over full body massage chair that one of the exhibitors are showing off and it really relaxed my shoulder area.
About 14:30 after lunch I have pretty much done everything I need to do at the show and decide to go into the city to see some of the tourist sights. I start with the cathedral and walk around inside there, I even get to see a gold box containing the supposed remains of the three wise men, I think that this may be the first relic I have ever seen, but I can't be to sure, at least it is the only one I can remember seeing.
The interior of the cathedral is extremely high and it is filled with impressive stained glass windows. The exterior is also equally impressive with imposing facades.
After the cathedral It is just a one-minute walk to the Roman museum which is right next-door. This houses a small collection of Roman artefacts that have been found in Cologne which used to be a Roman settlement a long time ago. Like I said it is a small collection and should not be compared to places like the British Museum, but I was interesting to spend 30 minutes their looking at everything, the only problem was that only a small number on finformation boards were bi-lingual so I could not find out more information about some of the collection.
When I left here I checked my watch and I just had enough time to go to the chocolate museum that is a ten-minute walk along the Rhine. It is located on three floors and shows the history of chocolate production since it's origins in Central America. The main attraction area is of course the production area where you see the chocolates being made. I was a bit disappointed though as the only free samples they were giving out was a small wafer dipped in a measly amount of chocolate.
When I finish here I walk back to my hotel and catch a taxi to the airport. It only takes about 20 minutes to get there and once I arrive I pass through customs and wait for my departure, everything goes to schedule and I arrive back in Manchester by 20:00, tired after a busy couple of days.
Second Day at Domotechnica

Cologne Cathedral

Roman Museum

The Chocolate Museum

Comments