Cologne Trip – Day One
February 18, 2008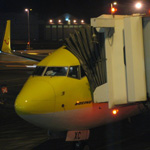 I get to Manchester airport at about 18:30 after work and check straight into the TUIFly desk which is the airline I am flying with, I had never even heard of them until my company booked this flight for me. No other passengers are there to it only takes two minutes.
I go straight through security as I am hungry and want my dinner and am not going to waste my time on the cafes this side of the control after the poor quality of food I had a couple of weeks ago on my trip to India. Once through I go up the stairs on the escalator and choose a restaurant called Giraffe and have a peppercorn steak with mash and onion rings for a main and a banana waffle split for desert.
I overhear the man on the table opposite me complaining to the waiter in a pompous arrogant manner, picking faults with every item on his plate (he had eaten everything and his plate looked like it had been licked clean), this resulted in him getting a 25% discount on his bill and he still wanted more, cheeky sod. My food arrives and as airport food goes it was well above average, about the same as you would receive having a pub meal.
When I finish this it is time for me to head for the gate, there isn't even time to go for a wonder around the shops like I always do.
At the gate though we are told that the plane is late arriving which will result in it being delayed for departure. We finally take off 50 minutes behind schedule, which is not a big deal as the flight is only 1:10 minutes long. The plane is only about half full so I get an entire row to myself and start to watch a film on my laptop, but before I am able to get into it I need to turn it off as it is time to land.
At cologne airport I pass quickly through passport control and then get a taxi outside to take me to my hotel. I think the driver though he was competing in a world rally event, as I don't think he slowed down to below 100 miles per hour the whole way.
I check into the hotel, the Ibis directly opposite the exhibition hall I will be attending the next couple of days and go to my room. The room is basic but clean and the bathroom is a self contained plastic pod using a modular construction, much the same as the Custom House Hotel I stayed at a couple of months ago in London.
I go to sleep ready for the long day ahead.
Travelling to Cologne

The Ibis Hotel


Comments