April 19, 2017
Nicely themed hotel perfect for Disney on a budget.
We stayed here for four nights in early June and were very happy with it. Yes it is not the Disneyland Hotel but if you are on a budget and want to stay on site it is perfect.
When we arrived, check in was swift and the person behind the desk was friendly. We had to choose our breakfast times so picked 7am to 8am so we could make the extra magic hours in the park.
Our room was in the ground floor of the Annie Oakley building which is very close to the main building and the Chuck Wagon Café where we had breakfast every morning.
Our room was nicely themed but maybe a little tired and could probably do with a refurb but it was great and suited our needs. For months my son was going on about how he wanted to sleep in the bunk bed and he loved it. As well as the bunk bed there was a double bed, TV, safe and a couple of power points. The bathroom was clean and had a shower over the bath.
For breakfast we ate at the Chuck Wagon Café, it was continental style and after you handed in your breakfast time vouchers you could sit anywhere. We were there early each morning to make the extra magic hours at the parks so it was not busy at all.
Breakfast consisted of a selection of breads, pastries, hams, cheese, cereal and juice. I admit I prefer a hot breakfast but this was perfectly adequate.
Transportation to the parks could not be simpler; a frequent bus service picks up guests and drops them off right next to the train station which is a short stroll to both Disneyland Paris and the Walt Disney Studios. It also picks you up from here at the end of the evening to take you back to the hotel, but if you wait until after the fireworks it can be manic with a long wait surrounded by people who do not understand the concept of waiting their turn!!! If you are inclined you can walk back in about 15 minutes. It is simple, just walk through the Disney Village till you come to the lake, stay to the left hand side walking past Hotel New York then turn left and follow the signs along the river.
I would highly recommend this hotel to anyone wanting to stay on-site but who have a limited budget, during the special promotions you can get hotel and park tickets for next to nothing, our five days / four nights cost less than £250.
June 8, 2015
Departed Liverpool on time at around 1pm for our one hour flight to Paris CDG airport.
Once we landed it took a while for the steps to come so we had to wait a bit. Once passport control was completed we walked over to terminal 2F where we caught the Magical Shuttle to Disneyland Paris. Before boarding we scanned our ticket and won a prize, a Donald Duck key ring.
We boarded the coach and it took us about 40 minutes to take us to our hotel. Disney's Hotel Cheyenne is Wild West themed and spread out over many different buildings. We were staying in the Annie Oakley block just a short walk from the main building. After we explored our room and unpacked we caught the internal bus to the parks.
As soon as we arrived at Disneyland Paris the Magic on Parade was in full swing so we stopped to watch that, although we did not have a great view we then went and took the obligatory photographs with the castle in the background.
Our first land was Discoveryland and the first ride was Buzz Lightyear which Matthew enjoyed immensely as he is a big Toy Story fan. We then went on Star Tours which would become Matthews favourite ride in the park. The last ride in Discoveryland was Autopia, where you drive a car around a track. We then went over to Fantasyland for dinner. Matthew had a chicken burger and I had a cheeseburger on a bagel.
Adventureland was next and we went on Pirates of the Caribbean twice before returning to Fantasyland to go on Its a Small World, Dumbo and the Mad Hatters Tea Cups before going back to Pirates of the Caribbean and exploring Adventureland and Frontierland going on Big Thunder Mountain.
We finished the night by watching the firework show Disney Dreams at 11pm before heading bag to the hotel on the bus which was crazy, people just don't understand the concept of waiting in line and think it is perfectly acceptable to just walk past people to get in front!
We finally got back to the hotel after midnight and went to sleep.
May 27, 2014
In my old role I used to do a lot of travelling for work, my job title was International Marketing Executive after all. Lots of people used to say to me it must be great flying to lots of countries on a regular basis and for the most part it was. The reality is though that for the majority of the time you just see airports, taxis, hotels and meeting rooms.
Read more
December 2, 2011
28th November 2011
Wake up at 3am (yes 3am!!!) ready for my taxi to the airport. At Liverpool I have a full breakfast before leaving at 6.10, I sleep most of the way to Amsterdam.
At Schipol I catch the train to the centre and then walk to my hotel the Renaissance Amsterdam. When I get there I meet up with some colleagues and we start to put gifts in all our guests rooms.
It's thirsty work so I head to the bar to get some coke's. We then set up the check in desk before they arrive. Once they arrive we get some lunch and then kill some time before we leave for the Heineken Experience which we have booked out for the evening.
At the Heineken Experience we have the place to ourselves as we have booked it out for our private party. We have a walking tour of the factory and get to enjoy complementary drinks and snacks as well as play on the interactive exhibits. It is finished off with a Buffett dinner at the end. We leave about 11.30 back to the hotel.
29th November 2011
Early morning and then down for breakfast, the faire is what you would expect but there was a custom omelette station which is always a bonus and I made use of it.
Today we head off by bus to our production facilities just outside the city. We spend all morning here having a plant tour and lunch before heading for a coach tour around the area to see some buildings.
When we get back to the hotel I have a short break before catching the train over to Amsterdam ArenA to set up the room ready for the evenings event there.
The evenness goes well and everyone seems happy. As well as cocktails and dinner everyone presents about their sales in Russia. We even have one of the architects who designed the arena as our guests.
30th November 2011
Another early morning. Today I had organised a Russian walking tour around the city for our guests which I tagged along wih although I could not understand what was being said by the guide.
After lunch we head over to The Grand to set up for the evening awards. ceremony, after which I go back to the hotel.
We go to the ceremony in style on a classic canal boat, I even get a go at steering.
We then spend all night at the Grand enjoying dinner, presenting awards and dancing. I head back to he hotel at around 1am.
1st December 2011
Another early morning but this time to ensure out guests leave on time. After which I have a couple of hours to kill so head over to the Anne Frank House for a tour. I also grab some chips to eat.
We get the train back to the airport and then catch the flight home.
June 29, 2011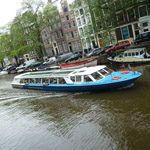 Today I just went over to Amsterdam for the day to look for some venues for an event we are going to hold there later in he year. It was a long day with a 7am flight that I got up at 4.15 for and a 10pm flight back so I got home at 23.30.
Read more
October 8, 2010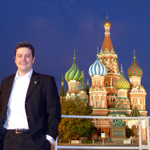 5th October 2010
Up early this morning, 4am and left the house at 4.30am to drive to the airport.  At Manchester Airport I had a breakfast bap at the cafe which contained a fried egg, bacon and sausage all in one bread roll, so that is probably all my calories for the day just for breakfast. Read more
August 20, 2010
Wednesday 18th August
After interviewing some candidates for a position in my department all morning I headed over to Manchester airport where because I did not book the short stay multistory car park far enough in advance had to go to the long stay where I needed to catch a bus back to the terminal. I went through security without a hitch, got something to eat and boarded my KLM flight to Amsterdam. Read more
June 26, 2010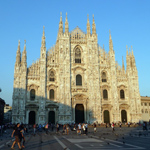 Thursday 24th June 2010
Left the house at 06.45 and got to Manchester Airport a little under an hour later. I checked in went through security and then got some breakfast, I don't know why I always go for the greasy offerings they have here as I never enjoy it or learn my lesson. Read more
February 20, 2008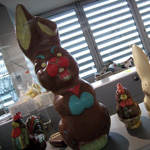 The day starts much the same as yesterday, I get up, get ready and go down for breakfast, which is the same continental meats and breads as yesterday.I go back up to my room, pack all my things and check out, leaving my language in the hotel safe room. Before heading back over to the exhibition. I am walking with a bit of a limp today as my blisters have got worse (I sound just like a moaning old woman don't I). I welcome lunch when I get the opportunity to sit down, I also spend about 20 minutes in an all over full body massage chair that one of the exhibitors are showing off and it really relaxed my shoulder area.
Read more
February 19, 2008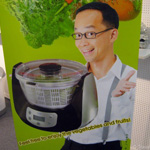 I get up early and head down for breakfast, which is a help yourself continental style, I have a selection of hams, cheeses and breads with lots of orange juice.After breakfast it is time so me to start work and I head over to the exhibition centre to begin networking with the companies that are there. Apart from 30 minutes lunch, I am on my feet all day until I leave at 16:40 when I head back to the hotel too have a shower and relax by watching a bit of TV, I can't believe one of the shows that is on, it is called are u hot and it involves men and women walking on stage and being assessed on their bodies and face, those with a high score are declared hot and the others not, just like the website hot or not, but this is prime time tv when there are usually children's shows on back home, amazing! .
Read more